---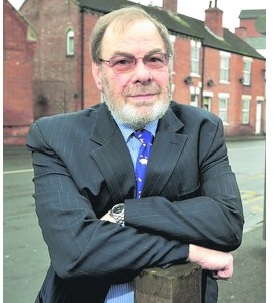 Mike had several aspects to his life and these are detailed in the pages shown below:-
Michael Edward Preston was born at 28 Broome Lane Ratcliffe on the Wreake on 6th February 1944, the only child of Doris and Charlie Preston.
Children in those days played in country lanes and everyone's back doors were always open and never locked and he spent many happy hours at Priory Farm with Doug and Sheila Hackett and their children.
I am told on good authority the village school had a population of 22 with an age range of 5 – 11.
Having failed the 11+ he continued his education Roundhill SM at Thurmaston until 1960. He was educationally a late developer and statementing was unheard of in those days but at 14 years of age went on a school trip to Bell Woodworking on Narborough Road and on his return the class were asked to write an essay of their experience. PING something happened he went home and told his parents he would like to stay on at school which was quite a shock to them. The rest as they say is history.
1960-70 he attended Leicester Polytechnic gaining ONC's HNC's and on more than one occasion was the course prize winner, all these were gained by day release, night school and Saturday mornings often biking from Ratcliffe.
In these 10 years he worked at Beagle Aircraft formerly Auster Aircraft as an Engineering Apprentice, Design Draughtsman and latterly a stressman. Then he moved to BAC at Filton to work on Concorde and then returned to Field Aircraft Services at Castle Donington as stressman and then Assistant Chief Designer.
His mother died in 1972 the year before we were married at Ratcliffe, he now had the qualification to do an Master in Technology in Engineering Design at LUT and the only way we could afford to do that was to save the next years mortgage the first year we were married but we did it but sadly his father died in 1975 just before he graduated.
Then he went on to do a PhD in Total Technology/Engineering Design.
In 1980 he became SL at Trent Polytechnic and then returned to LUT as lecturer, SL and finally Professor in the EDC.
He just couldn't say no to anyone and he also managed to do some consultancy and these included work for K K and FL you see everyone at sometime needs an engineer.
Many of you know him from a different aspect of his life, he was a rural man a community man passionate about heritage and the environment and because of his education and experience brought a down to earth approach to an issue, if he didn't know the answer to a problem he would find someone who did which was a big help to the villages he represented.
In Ratcliffe many years ago he was Chairman of the VH committee and until May of this year was Chairman of the PC.
His main interests were anything that moved trains and planes and he wrote two books about Austers one with our friend and best man Mick Ames – he had started a third book which hopefully will be completed and with a group of friends formed the Auster Heritage Group.
The other love of his life was his cats and dogs which I am sure many of you will be aware of.
In February the day before we celebrated his birthday he bought me a new engagement ring as he wanted to buy me something before he went into hospital – this very private man had it all planned. Later that week he underwent surgery in the Royal Hallamshire Hospital in Sheffield and was an IP for eight weeks. Two days after that mammoth operation – I forgot to mention his other love FOOD supper arrived and he had chosen Mince Beef Cobbler and Jam Roly Poly.
At this stage I would like to thank his GP Gareth Chidlow who has been a constant help and support, one day he rang and mentioned he might have a change in personality when he came home to which I replied I was hoping he would be tidy and organised!
The day following discharge from hospital this determined man insisted we go and buy him a self propelling WC which would give him more independence. I will never forget the sight of him coming towards me with a large bunch of flowers on his knee while we were out shopping – what I hadn't realised he was also putting food items in the trolley. We never went anywhere that he didn't like the food.
When he came home the three things he really wanted to do was to go the count following the CBC election and the annual meetings at CBC and CH and he achieved all three. The one thing he really appreciated was that a member of the opposition took the time to congratulate him for his achievements as leader at CBC.
The last seven weeks of his life he was cared for at LOROS and I am so grateful to all the nursing medical and catering staff for meeting all his needs. On Monday 15th August they made it possible for him to come home for one last time.
It may sound strange but in many ways I feel lucky, after he came out of hospital one night we sat and read all the e mails and cards, we laughed and we cried. I feel proud to have been his wife, he did his political bit for the right reason he wanted to give something back. He could never say no to anyone and his sense of humour and hours of hard work were appreciated. I am amazed at the response today and it is a great comfort, tomorrow would have been our 38th wedding anniversary.
This very private man who normally never stopped talking left me a letter which he wrote before he went into hospital and instructed our very dear friend Ian Pawson to give to me, he wanted his funeral to be a happy affair followed by one of my famous meals – can you believe it.
I would like to thank you for being here today and respecting our privacy in the last six months and finally I would like to thank our families and friends for the support they have given to us daily since the beginning of the year.
---
About | Contact | Site Terms | Privacy Policy

Copyright © 2008 - 2021 by the Auster Heritage Group
Page last modified: 31st March 2015 06:45:59