---
Eighty ex-employees and friends came together in the Queniborough Village Hall on Saturday 21st April to celebrate, for the last time, the famous Auster Aircraft which was built and flown from Rearsby Aerodrome for 30 years between 1938 and 1968.
Chairman, Gordon Hallam, welcomed the guests and opened the proceedings by introducing the speakers.
The first talk was by Bob Wykes, son of the founder of the Company, A.L.Wykes. His fascinating insights steered the audience through the history of the Auster aircraft and its many accomplishments, particularly during the war years. It was accompanied by a series of remarkable photographs dating back to the start of the Second World War.
This was followed by a presentation given by Heather Broughton, Assistant Director for Community and Wellbeing at County Hall. Heather is responsible for a series of displays created at Snibston Museum about the Auster Aircraft. Heather also outlined a number of future projects currently in the pipeline which have been designed to enhance the current display. It is hoped that the gallery will also be a suitable place to mark the contribution of Professor Mike Preston to the study, preservation and sharing of knowledge of Austers.
The 'business end' of the reunion then followed as the last and most Extraordinary General Meeting was held.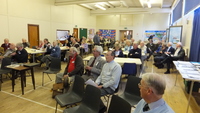 The presentations sparked a number of animated conservations and the hall was buzzing with talk of the old days, whilst everyone enjoyed afternoon tea.
The crowning glory of the day was when Gordon invited everybody to gather outside for a special treat. As they waited, the sound of an Gipsy Major engine getting louder and louder could be heard and around the clouds, in all its glory, flew one of the few remaining Auster aircraft. It was flown by Auster enthusiast Charles Sunter who had left the meeting early to dash to Stoughton aerodrome to bring the aircraft back for its momentous fly by.
The Heritage Group was formed in 2000 and it's task was to record the history of the company and its aircraft. Several books have been produced by Ambrose Hitchman, Mick Ames and Mike Preston and oral interviews have been recorded. This work is now largely done so the group is closing down.
For those of you who would like to know more about the history of the Auster, do log onto austerhg.org where you will find photographs, oral interviews and much more.
A full resume of 'the last reunion' can be downloaded from the aforementioned website.
Later this year, in association with Ivor Vaughan, there is to be an unveiling of a commemoration plaque at the entrance of the Rearsby Business Park.
Gordon Hallam, IAC Heritage Group
---
About | Contact | Site Terms | Privacy Policy

Copyright © 2008 - 2021 by the Auster Heritage Group
Page last modified: 31st March 2015 06:43:04