---
Click here for background information on the Heritage Group.
Click here for the Heritage Groups constitution.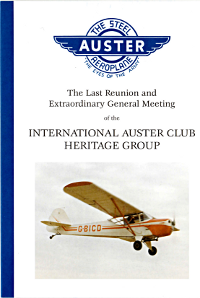 Gordon Hallam, 32 Syston Road, Queniborough, Leicester, LE7 3FX. Telephone: 0116 260 5576
Secretary:
Beryl Preston, 28 Broome Lane, Ratcliffe-on-the-Wreake, Leicester, LE7 4SB. Telephone: 01664 424 647 E Mail: [email protected]
Ian Pawson, 14 Lilac Avenue, Leicester, LE5 1FN. Telephone 0116 276 9425 E Mail: [email protected]
The International Auster Club spawned its first sibling; the International Auster Club Heritage Group has come into being at the AGM 2000. The aim of the group is to start midlands based group accredited to the International Auster Club with the intention of providing support on historical and local activities. It is appropriate that the emphasis of this group would be historical as the development and manufacture of the type was undertaken in the county.
Auster aircraft made an important contribution, resultant on the efforts of local people, to:
Light Aviation design and technical innovation
The local and national economy
WW2 war effort
Post war export markets
Private aviation development
Defence policy and military strategy 1940 to 1970
To support the International Auster Club both nationally and locally with a view to maintaining and securing an historical archive and collection.
To be responsible for the organisation of events locally and to liase with the IAC on associated matters.
To raise awareness by means of marketing and publicising the Austers contribution to the UKs aviation heritage.
To develop a number of projects to support the aims of the main club, but to also organise autonomous events that have a particular flavour associated with Leicestershire.
To attempt to obtain funding to support these projects.
To publish a local newsletter and to provide material for publication in the club quarterly magazine.
To provide a local focus for the development of material particularly associated with Rearsby and its environs.
To provide a local contact point for ex employees and other interested parties.
Arrange events during the winter months to promote local interest.
To act as a focal point for the Leicestershire Museums, Arts and Records Service on matters concerning Auster Aircraft, its records and artefacts.
Provide support and new material associated with the Auster Company, its aircraft and its people for access, record, safekeeping and display.
Whilst the group is to be based in and around the Leicestershire, anyone is welcome to get involved. It is planned to have a .number of local events. If you are interested in joining the group then please contact the committee members.
---
About | Contact | Site Terms | Privacy Policy

Copyright © 2008 - 2021 by the Auster Heritage Group
Page last modified: 31st March 2015 07:13:21